"Arka" is a trendy bar & grill restaurant, elegantly inscribed in the real arch space of a St. Petersburg house.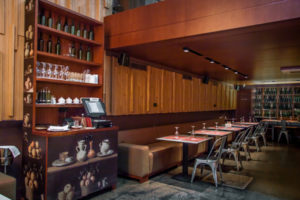 The fashionable St. Petersburg restaurant "Arka" is a truly unusual place, elegantly inscribed by the architect in the space of the arch and courtyard of a historic building in the very center of St. Petersburg. The arch is turned into a bar, the courtyard is transformed into a restaurant zone.
The project created by architect Anatoly Melnikov does not mask, but on the contrary, beats the specific configuration of the space given by the initial parameters.
The narrow neck – the former arch – was transformed into a bar. The area is decorated with a false arch of wooden slats, between which there are diodes that fill the space with light.
Wooden elements have become style-forming for the interior of the "Arch". This is not only a false-vault, but also unusually beautiful wall panels, a long 13-meter bar, elegant cabinets for dishes and a massive table for large companies.
All of these elements that form the character of the interior were developed by Pronin Craft, a Petersburg company that created objects for the atmosphere of many famous restaurants – Chaliapin, Buddha Bar, Fish, Sadko.
The aesthetics of the interior of the Arch are more likely to be close to New York or Stockholm than the generally accepted Russian design trends. The loft style is organically complemented by the features of the Scandinavian style: brick walls, wooden panels, large air spaces. Designers were able to combine simultaneously functioning bar and restaurant, creating an amazing cosmopolitan in spirit place.
Restaurant area "Arches" has two levels. On the ground floor, there is a space zoned by corner sofas with a beautiful wooden ceiling. A special element of the interior of the first floor is a cupboard, decorated with a print of a painting by the artist Francisco Zurbaran.
The interior of the restaurant "Arch" is made using a variety of wooden panels
Once on the second floor you find yourself in another restaurant area. The walls and part of the ceiling here are decorated with wooden panels. Their surface is given a rhythm. It is created by protruding vertical slats fixed on the main wooden surface. This technique deprives the space of monotony and gives it dynamics.
This beautiful and unusual St. Petersburg project in 2013 received the award "Best Public Interior", awarded annually by the fashionable glossy magazine "Dog."