MOST FASHIONABLE WORLD RESTAURANTS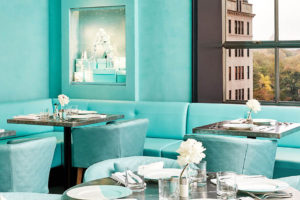 Tiffany's breakfast is now no longer a cinematic metaphor, but quite a reality of itself. On the fourth floor of the New York jewelry store Tiffany & Co. opened a cafe. Named after the famous blue box, in which for holidays, anniversaries and special occasions are presented precious gifts around the world, it offers classic American cuisine made from local products. For breakfast (29 dollars) serve coffee / tea and a croissant or fruit. Then you have to choose between avocado toast, buttered waffles, truffle eggs and smoked salmon bagel.
THOMAS CAFE
Burberry named its gastronomic space in a London boutique in honor of the founder of the brand Thomas Berberri. Christopher Bailey called it a place where you can "spend time relaxing and enjoying the world of Burberry." English cuisine. While eating a salted cod souffle, shepherd's pie or wilshire ham on your bag or wallet will make a monogram, and after dessert (shortbread or elderberry sorbet) you can buy a cashmere blanket or notebook with a recognizable logo.
EMPORIO ARMANI CAFFÉ
Italian fashion designer and businessman Giorgio Armani does not just create clothing. He is the author of a whole universe of style. His cafes around the world (in Russia they are in Moscow and Yekaterinburg) he furnishes furniture and accessories for the House of Armani Casa, and their menu includes recognizable Italian dishes: papardelle with mushrooms, potato gnocchi with mussels, calf schnitzel.
THE POLO BAR
The first restaurant is Ralph Lauren in New York, but not the first for the brand that had previously opened RL in Chicago and Ralph's in Paris. The style of the brand is felt in the magnificent lighting, leather sofas, reminding of details of horse dressage, flickering fireplaces and golden sinks in the toilet rooms. American classics are widely represented in the menu – from crab cakes to corned beef sandwiches. Vegetarians are offered generous servings of salads, an avocado burger, stewed spelled and pumpkin porridge with crispy quinoa and roasted pumpkin seeds.
1921 GUCCI
Shanghai restaurant of the famous Italian brand is named after the year the company was founded. Straight from the boutique, a special lift takes its guests to the fourth floor. Here you can order Italian-oriented European cuisine. The menu includes scallop carpaccio with green asparagus and orange, classic bruschetta, linguine with pesto and parmesan and Italian ice cream. All this is served in the interior, where the accents are arranged with golden brass details and turquoise velvet chairs. Gucci also opened a cafe in Tokyo and Florence.
RISTORANTE TRUSSARDI ALLA SCALA
The luxurious high-rise boutique of the brand in Milan, on the left hand side of the famous La Scala Opera House, offers high-quality cuisine performed by Roberto Conti. Michelin's guide marked him with one star. On the ground floor there is a lounge bar, where you can drink a cocktail or a glass of rare sake, on the top there is a full-fledged restaurant, which you should definitely go to in a fashionable gourmet. Tasting menu from the chef (150 euros) or order a la carte – no matter what you choose, be prepared to be surprised.